15 reasons why you should start playing Primal drum
1. RELAXATION AND STRESS RELIEF
Playing Primal drum, tongue handpan by Primal Wonders, can be a calming and meditative experience that can help to reduce stress and promote relaxation. The soothing sounds and rhythms produced by this instrument can help to soothe the mind and body, creating a sense of peace and tranquility.
2. ACCESSIBILITY
Primal drum is a simple and easy-to-play instrument that is accessible to people of all ages (including children) and all skill levels. It's compact size and hand-held design make it easy to transport and play anywhere, making it a great choice for both musicians and non-musicians alike.
3. CREATIVITY THROUGH FREE IMPROVISATION
Primal drum is a intuitive and expressive instrument that allows you to create a wide range of sounds, melodies and rhythms. Playing it can be a creative outlet that encourages self-expression and helps to develop musical skills and techniques. 
4. IMPROVED FOCUS AND CONCENTRATION

The repetitive patterns and rhythms of Primal drum can help to improve focus and concentration, making it a great tool for mindfulness and meditation. The act of playing it requires focused attention, which can help to sharpen the mind and improve cognitive function.
5. THERAPEUTIC BENEFITS 

Primal drum has been used in various forms of therapy, including music therapy, to help improve physical and emotional well-being. Generally speaking, the soothing sounds and rhythms of steel tongue drums (RAV Vast etc.) and handpan have been shown to have therapeutic benefits for individuals with physical or mental health conditions. 
Comparison of Primal drum, Rav Vast drum and handpan:
(You can read our full review HERE)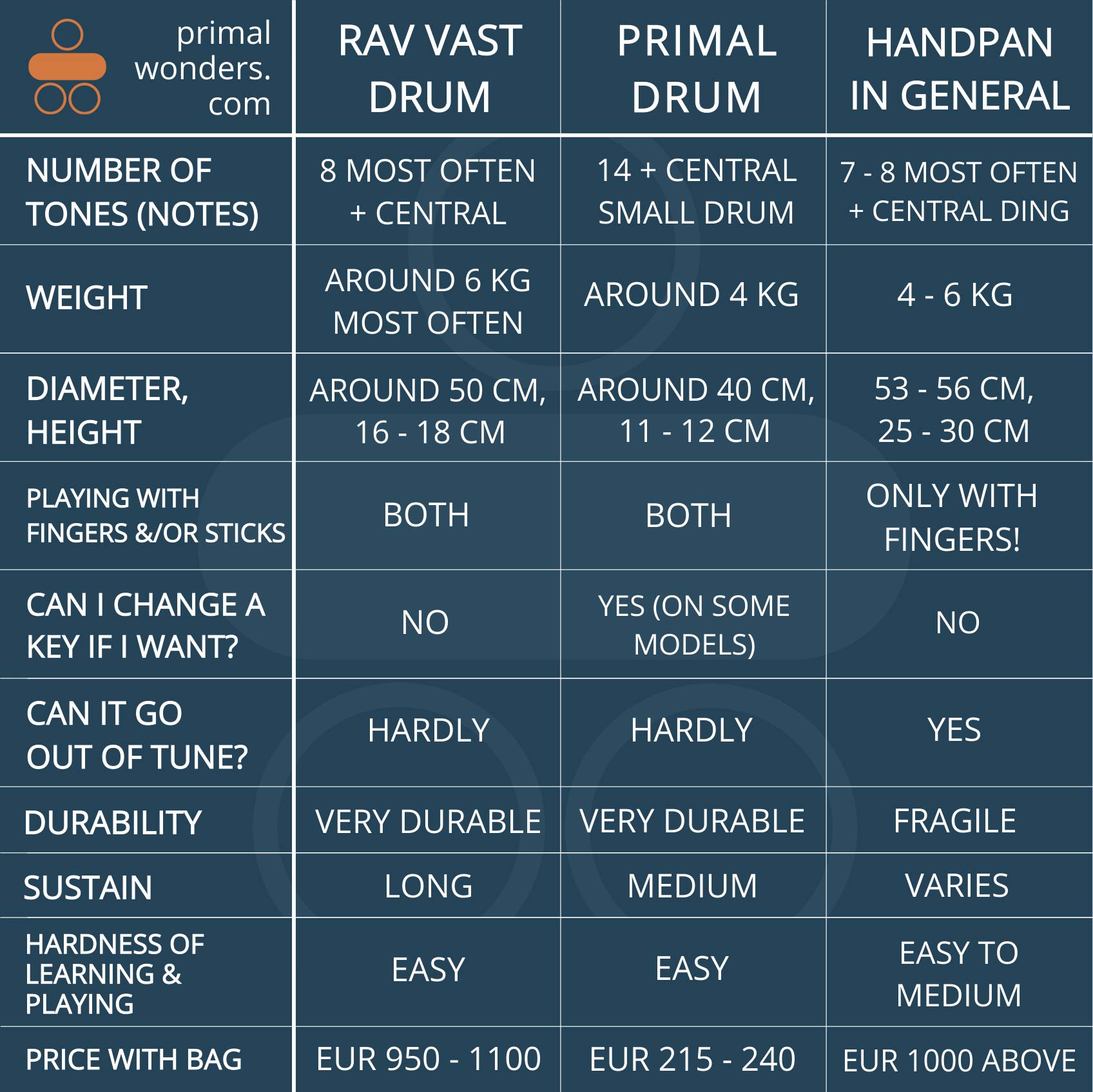 6. DEVELOPMENT OF MOTOR SKILLS

The act of playing Primal drum can help to improve hand-eye coordination and fine motor skills. This makes it a great choice for individuals looking to improve these skills, including children and individuals with disabilities.
7. IMPROVED SOCIAL SKILLS

Primal drum is a great tool for building social skills and connecting with others. Playing it with others can foster a sense of community and improve communication skills, making it a fun and enjoyable activity for all ages. Whether playing in a group or with friends and family, this instrument is a great way to bring people together and create positive social experiences.
8. VERSATILITY
Primal drum is a versatile instrument that can be played in a variety of styles and genres. Whether you're a seasoned musician or just starting out, it is a versatile and exciting instrument that is sure to inspire and challenge your musical abilities.
9. CULTURAL SIGNIFICANCE
Primal drum has roots in various cultural traditions. Playing it can help to connect with and appreciate different cultural heritage and traditions, making it a valuable tool for promoting cultural awareness and understanding.
10. INCREASED SENSE OF WELL-BEING
The act of playing tongue drum, steel drum or handpan can release endorphins, reducing anxiety and depression and promoting feelings of happiness and contentment. 
11. CONNECTION WITH NATURE
Primal drum can be used in nature-based practices, such as drum circles, to connect with the natural world. The rhythmic beats and sounds of this instrument can help to create a sense of unity with nature, promoting a deeper connection with the earth and all living things.
12. IMPROVED HEARING AND LISTENING SKILLS
The repetitive patterns and rhythms of Primal drum can help to improve listening skills and overall musical awareness. The act of playing is requires focused listening, which can lead to improved hearing skills and a greater understanding of music and sound.
13. INCREASED CONFIDENCE
Learning to play Primal drum can help both adults and kids to increase confidence and self-esteem. The process of learning a new skill and creating music can be a rewarding and empowering experience, leading to improved self-confidence and a greater sense of personal accomplishment.
14. FUN AND ENJOYABLE
Playing Primal drum can be a fun and enjoyable experience, regardless of age or skill level. This instrument is designed to be accessible and easy to play, making it a great choice for individuals who want to experience the joy and excitement of creating music.
15. COMMUNITY BUILDING
Participating in drum circles or playing Primal drum with others can be a great way to build a sense of community and connect with like-minded individuals. This instrument is often used in group settings to promote unity and create a shared experience, making it a valuable tool for building relationships and fostering a sense of belonging.
SHARE WITH US YOUR REASONS WHY YOU STARTED TO PLAY PRIMAL DRUM HERE!
WHAT DO I GET WITH PRIMAL DRUM?
– quality carrying bag.
Order extra:
– 1 hour of Primal drum lesson (online or in live),
– 2 special playing sticks with rubber balls on top,
– hand-embroidered protective ornament ("braid") around the hoop of the instrument,
– built-in LED light for night atmosphere (see pictures), choose warm white color OR multicolor; batteries come included.
PRIMAL DRUM –
FIND YOUR PRIMAL RHYTHM
* For the most live-like sound, use headphones!
* Click on arrows to find more videos.
You can easily order Primal drum:
– online in our international webshop
OR
– offline by sending an email HERE
Ready to find your wonder?

"There are NO limits. There are plateus, but you must not stay there, you must go beyond them. A man must constantly exceed his level."

― Bruce Lee